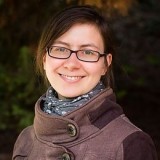 Sabrina Träger
PhD, Post-doctoral researcher
I am interested in interactions of plants with their environment, especially in high latitude and altitude environments, applying novel approaches to retain and facilitate ecosystem services of managed and unmanaged ecosystems. I seek to understand those interactions on multiple ecological scales (communities, individuals and genetics) to obtain an overview from multiple perspectives of plant communities and individuals.
In the latest project in the work group, I evaluated the consequences of landscape and habitat changes on the genetic diversity and potential adaptive response of plants in calcareous grasslands. The main tool for this landscape genetic approach is a state-of-the-art molecular technique in combination with environment and landscape analysis to determine connectivity-related gene flow and distribution of genetic diversity in fragmented plant populations. In addition, we were interested in the potential adaptation of grassland plants to various environmental variables. The project enabled us to obtain fundamental insights into the landscape-driven genetic distribution and background of plants, which can serve as a basis for guiding decision-making in environmental conservation policy.
Aavik, T, Carmona, CP,

Träger, S

, Kaldra, M, Reinula, I, Conti, E, Keller, B, Helm, A, Hiiesalu, I, Hool, K, Kaisel, M, Ditch, T, Lotman, S, Pärtel, M (2020).

Landscape context and plant population size affect morph frequencies in heterostylous

Primula veris

- results of a nationwide citizen-science campaign.

Journal of Ecology

, 0: 1-15.

doi: 10.1111 / 1365-2745.13488.

Hannula, SE,

Träger, S

(2020).

Soil fungal guilds as important drivers of the plant richness-productivity relationship.

New Phytologist

, 226: 947-949.

doi: 10.1111 / nph.16523.

Aavik, T, Thetloff, M,

Träger, S

, Hernández-Agramonte, IM, Reinula, I, Pärtel, M (2019).

Delayed and immediate effects of habitat loss on the genetic diversity of the grassland plant

Trifolium montanum

.

Biodiversity and Conservation

, https://doi.org/10.1007/s10531-019-01822-8.

Träger, S

, Öpik, M, Vasar, M, Wilson, SD (2019).

Belowground plant parts are crucial for comprehensively estimating total plant richness in herbaceous and woody habitats.

Ecology

, 100: e02575.

doi: 10.1002 / ecy.2575.

Träger, S

, Milbau, A, Wilson, SD (2017).

Potential contributions of root decomposition to the nitrogen cycle in the arctic forest and tundra.

Ecology and Evolution

, 7: 11021-11032.

doi: 10.1002 / ece3.3522.

Träger, S

, Wilson, SD (2017).

Root heterogeneity along an arctic elevational gradient: the importance of resolution.

Functional Ecology

, 31: 480-487.

doi: 10.1111 / 1365-2435.12721.

Rosche, C, Schrieber, K, Hirsch, H, Blachnik, T,

Träger, S

, Richter, F, Seidler, G, Hensen, I (2014).

Sexual reproduction and clonal effects in small populations of

Antennaria dioica

(L.) GAERTNER.

Hercynia NF

, 47: 59-86.